Trinitysingz2's

Profile Page
Trinitysingz2 is 55 years old, is located in Texas / USA and has been a SingSnap member since June 23, 2007. She has a total of 55 public recordings that have been viewed 1,881 times and 11 achievement points.
Information Written by

Trinitysingz2

3
I am taking this time to let my friends now that some circumstances here have prohibited me from being on SS much. I would like to take this time to just tell you how good God has been...A few years back - our marriage was almost over. There didn't seem to be any hope of restoration - things just got worse and worse. I can't tell you how or when but, God did it again. Our marriage is back on track - stronger than ever. I think sometimes we take things for granted so long that it seems impossible to fix but WITH GOD all things ARE possible. Its almost like we are newly weds again. The picture I have chosen to use here is from our engagement a little over 27 yrs ago. I'm so thankful I held to God and decided to hold on to ONE OF THE BEST THINGS - I'VE EVER HAD...My Honey. God has truly been good to us. We all have our ups and downs but, if you hang on to God and HIS WORD (Bible) - you can never go wrong and he will work things out in his time. Jesus will be returning soon and I pray that if you don't have a relationship with him that you would turn your heart over to him today. We are not guaranteed tomorrow. Things in our family have been stressful lately since my grandmother and Mother have both been diagnosed with Alzheimer. My dad is needing help with my Mom as he is full time caregiver for my grandmother. So I help take care of Mom as needed. My grandson is now 7 and requires more attention. I guess you could say - LIFE IN GENERAL has gotten busy for me. I want to give a SPECIAL THANK YOU to those who take time to let me know I am in your thoughts from time to time. I think about you all often and do remember the good times but, as for now - Please keep praying for me and my family. I will throw in a song as I have time. My Mom is progressing quite quickly and its hard when she is here. Thanks for understanding.
Thanks for being my friends and taking time to listen to my songs- leaving comments- or even a little message that you have not forgotten me.
*God bless*
~*Trinity*~
@@~~Let's Go Around Town..Grand Prize Awards..~~@@

~~@@Let's Go To The Movies(Classics)@@~~

THANKS "JET" FOR MAKING THIS COMPLETE. Beautiful Duet!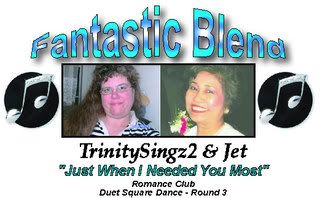 Reply by KutiekarenGOLD on September 30, 2008 at 6:48 PM
1st. Place Best of Gospel Music Contest Goes to Trinitysingz2
God Bless!!!!!!!!! You are fantastic!!!!!!!!! Kutiekaren!!!!!!!

Woohoo!! I have hardly ever touched a gun...and here I am the "fastest" draw in the West! LOL