Profile
LEVEL 47
My real name is Janice. I have lived in New England most of my life (VA from 2016-1017). Moved back to Boston in Nov 2017. I studied Musical Theatre in college and pounded the pavement on the NYC circuit for a few years after graduation but then decided to settle down and have a family. In 2004 at the age of 35 I was diagnosed with Young Onset Parkinson's disease. I am doing well but unfortunately the disease has affected my singing voice. I am not able to have the same control I once had. It is frustrating. I still sing at weddings and funerals and the like but I fear those days are numbered. I gave up performing in community theatre last year. I no longer have the stamina to maintain a whole show. I also have been on disability for a few years and no longer work a day job.
I am grateful to have found SingSnap. I like being here because I can sing for my enjoyment and not worry too much about how it sounds. It means a great deal to me. It also keeps me busy during the day.
Thanks for reading & listening!!
All the Best! TC93
DEC 2018 UPDATED NEWS!!
Hello! What a year 2018 has been. My son graduated college in May (Yay!) and started a job in his field of study the Monday after graduation. He moved into his own apartment and is loving his life. I couldn't be more proud. We are official empty nesters!! Hubby had a few job changes since we moved back to MA and we left our amazing apt in East Boston to move back to our house in Northborough (central Mass). In Oct a week after we moved back to our house, my hubby had a heart attack (age 48!!). By the grace of God he is ok. In Nov we had to move my mother-in-law into a nursing home. It was one of the hardest things we have had to do. It so hard to tell a parent that they can no longer safely take care of themselves. Now we are embarking on the last month of this year. I am hoping for a calm and loving holiday season. We will see what the Lord has planned. As always, I am so grateful to have SingSnap as an outlet for when I need to escape from the realities of life.
DEC 2017 UPDATED NEWS!!
The D.C. experiment is over. It was fun while it lasted but we decided to move back to MA. We settled in Boston so we are still apartment dwellers. It's different but I feel so much more at home here. Still haven't gotten on here as much as I would like but it's nice to be able to pop on and off whenever I feel the "itch" to sing.
APRIL 2016 UPDATED NEWS!!
It's been a big year in my life. Some major changes. Biggest one is we moved from New England to the DC Metro area!! Went from suburban house to city apartment living. It's been an adjustment. Haven't been able to get on here to sing as much as I would have wanted to. Now that things are settling down I hope to be able to sing more.
APRIL 2015 UPDATED NEWS!!I am at my lowest weight ever!! 170. They still want me to lose 10 more but I think this is where my body wants to stay. I feel good. It is taking a lot of getting use to the "new" me. I lived in my other body for 40 years....this new body I've only had for a few months. I am only just seeing the changes in myself. I've been working out and feeling stronger. I even have been auditioning again. I was just cast in a new play at a local community theatre here. I am looking forward to it. Rehearsals start tomorrow. Still dealing with my Parkinson's Disease effecting my voice but I've started voice lessons with an amazing teacher who is helping me learn how to sing a different way. It's really helping me. I feel much more confident. The pain of losing my brother is still raw but day by day it gets a bit better. I know he is with me. I feel his presence with me all the time and I talk to him. I see signs that he here's me. Sounds crazy but it's true. I know I will see him again someday.
SEPT 2014 UPDATED NEWS! Well, this year is turning out to be about as tough as last year. Actually, probably the hardest year I have ever faced. My weight loss journey continues and I am down 110 pounds. I feel and look like a different person. However, my joy at losing the weight was tempered by the tragic death of my younger brother this past July 23rd. He was killed in a horrific car crash where the driver of the car he was in was drunk. They were in a convertible and the car flipped. He was killed instantly. His colleague survived but is still in critical condition. We continue to pray for his recovery and for his family. I was very close with my brother. My whole family is very close. This has been so hard. We have never had anything like this happen to us before. I am taking things one day at a time. I want to get back to singing on here. It brings me so much joy when I can. Here's hoping the last three months of the year can be productive for me.
MARCH 2014 UPDATED NEWS On January 10, 2014 I had vertical gastric sleeve surgery. I've lost 60 pounds since my highest weight. (some before the surgery some after) I am feeling like I am finally going to get my weight issue under control. Long road but I am ready for it. Unfortunately, since the surgery, my singing voice has not been the same. They had to in tubate me and I think there might be some damage. We'll see. Hopefully it's only temporary.
FEB 2014 UPDATED NEWS! 2013 was a tough year for me and I didn't get on here much. My father-in-law was diagnosed with cancer and I was his caregiver. He was diagnosed in Feb and passed away in July. It took a lot out of me emotionally and physical. But, I am bouncing back.
"Everything Happens for a Reason"
2016 PARTICIPATION/SHOUT OUT BANNERS!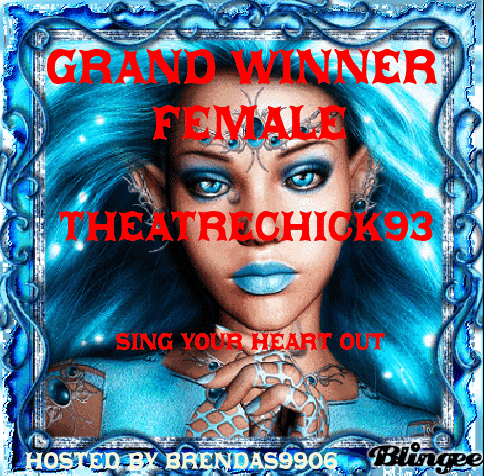 2015 PARTICIPATION BANNERS!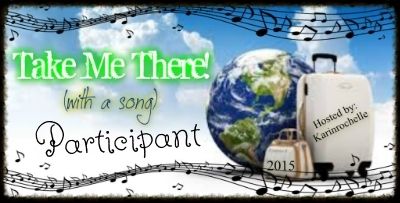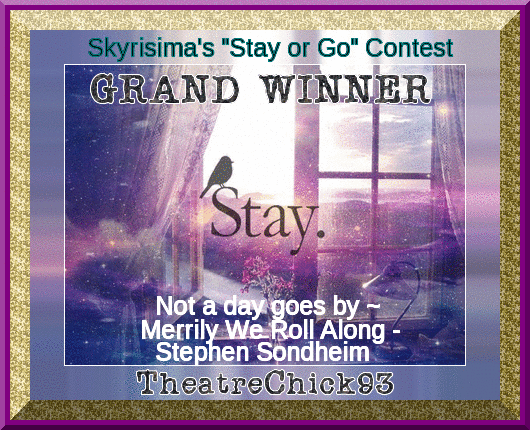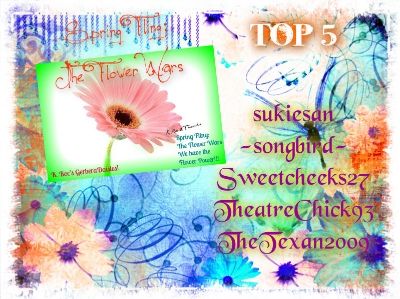 2014 PARTICIPATION BANNERS
2012-2013 AWARDS AND BANNERS