Profile
LEVEL 37
I'm here... just setting up a new computer
I'm still out here. Finally GOLD again! Most of my recordings are in 2010 & 2011, with a few in 2013 & 2015, 2017 & 2018. I lost all the earlier and in between recordings when I went blue.. I am back and ready to make new friends!
I am a born again Christian, Southern Baptist Preacher's daughter & Deacon's wife. I have been married for 34 years to the best guy in the world (Teddypossum) & three fantastic kids who are the joy of my life! They are all on SingSnap. (MPZ, Sythrim, & Poleklaws). I enjoy spending time with my kids and their friends.
I am an avid reader.... mostly Twilight Fanfic and LOVE it. I love The Good Doctor, The Rookie, Walking Dead, & any music show or crime drama.
Occupation wise, I am a Renewal Underwriter for a Commercial Insurance Broker.
Began playing flute in 4th grade. Played classical & marching band through high school. Started singing in church very young and starting writing poetry and songs at about 13 years old. Most of my poetry though is emotionally dark and doesn't translate to music too well. Taught myself to play the guitar and play some piano in high school.. although the only instrument I play much now is guitar. Performed in several church musicals in my teens and as an adult. Sang second soprano and alto in my teens in a girls choir and was in the high school choir all 4 years. Currently I am singing soprano in our 7 member church praise team every Sunday and sing solos and duets for church services and special events.
Click here to go to my song recordings
Teddypossum & Pocketcage Duets
Summer Breeze - Seals and Crofts
The Lady Loves Me - Elvis Presley & Ann Margaret
You're Still the One - Shania Twain
You Light Up My Life ~ Debby Boone
It Must Be Love ~ Don Williams
Don't Stop Believing ~ Journey


~~~~~~~~~~~~~~~~~~~~~~~~~~~~~~~~~~~~
Now, for this next award, This fine couple always made me laugh with their funny pics and images that I just had to do it hehe .. OUR HONORABLE MENTION / MEEZ AWARD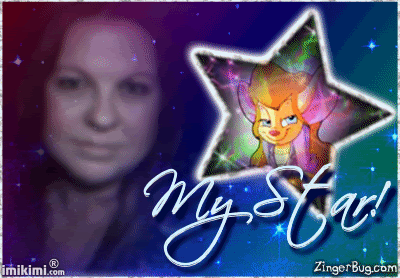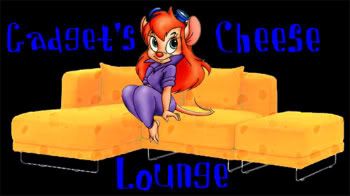 Sometimes the BEST awards of all are just because of friendship ;o)
Appreciation for hosting Teddypossum & Pocketcage's Potpourri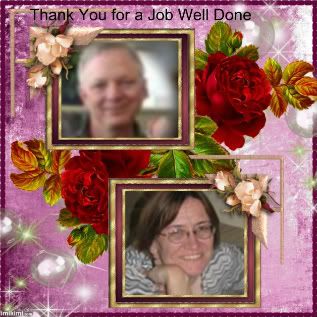 Appreciation for hosting "Teddypossum's Turn up the Heat"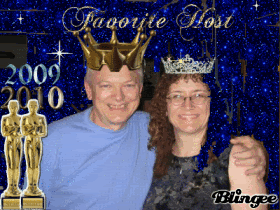 Appreciation for hosting "Teddypossum's TV Thing"
Singing & Participation Awards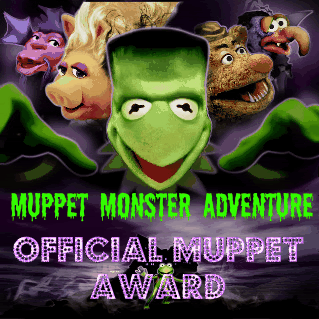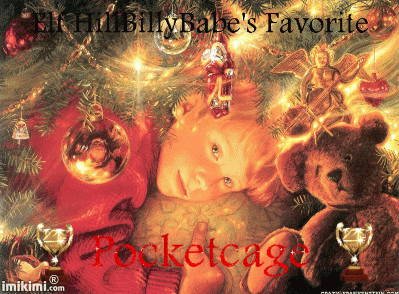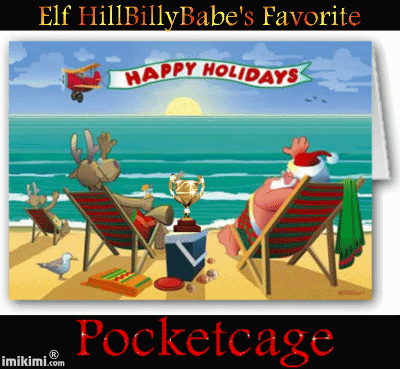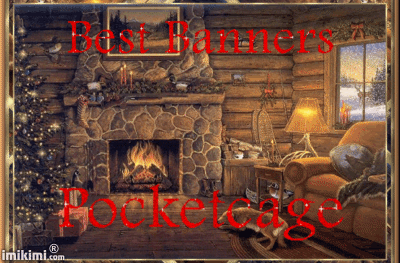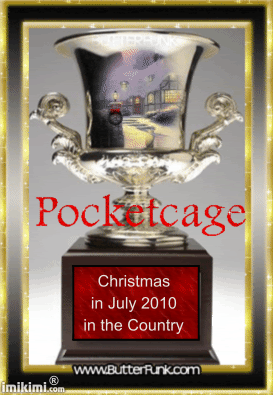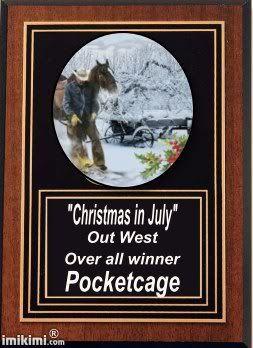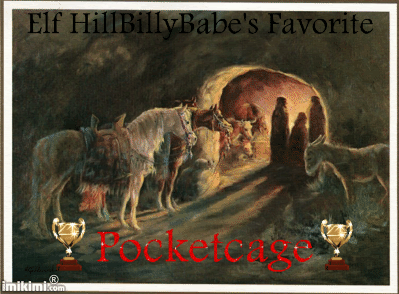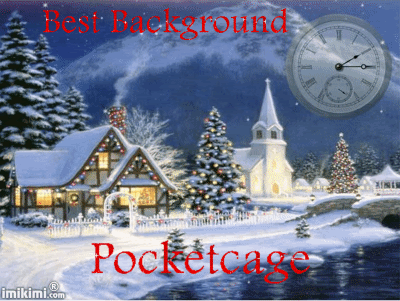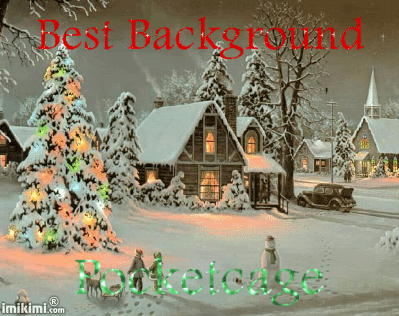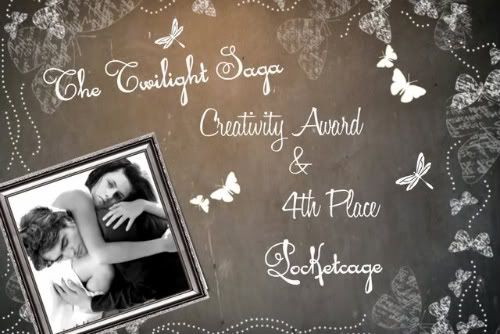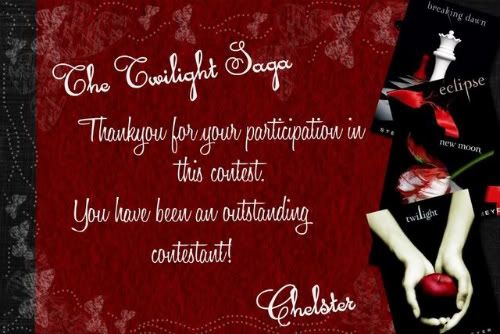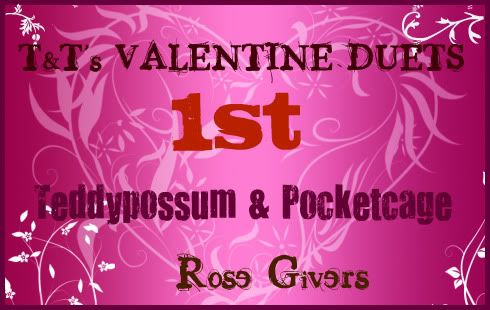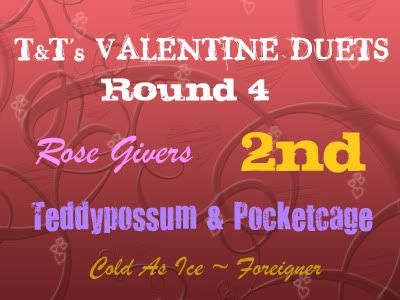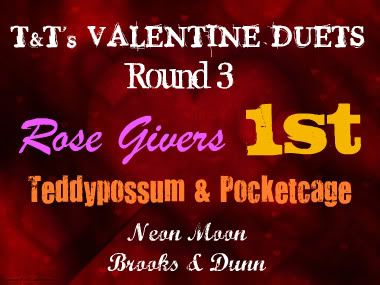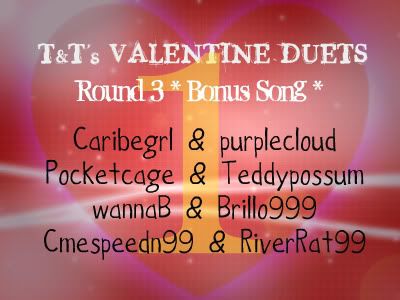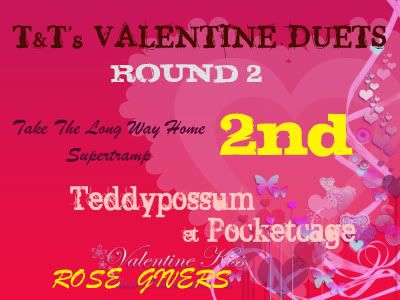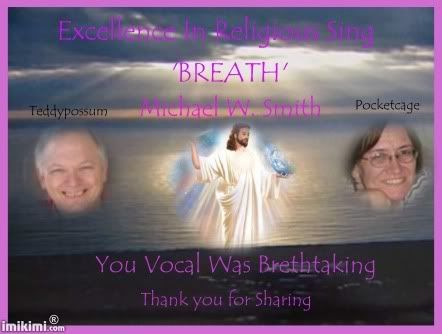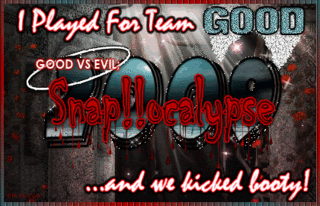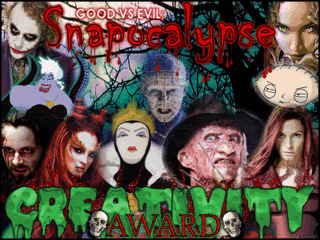 For: Hell is for Children / Pat Benatar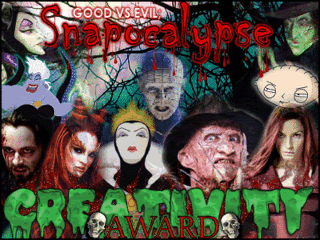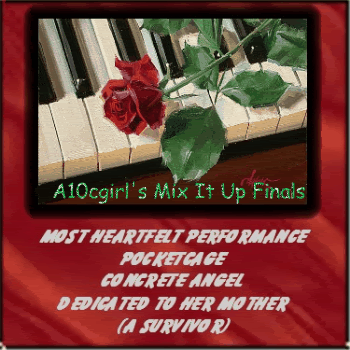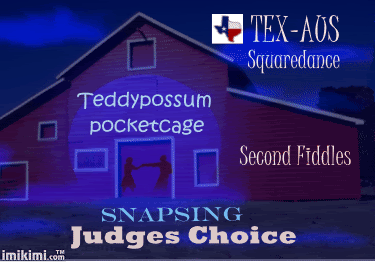 For Breathe / Rebecca St. James
Open Arms ~ Journey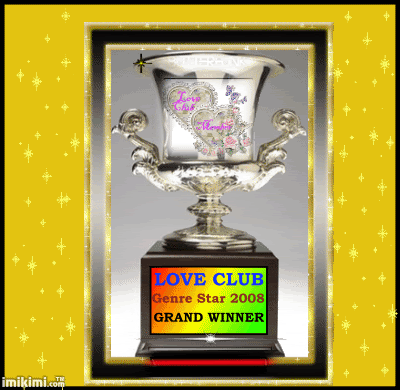 NOVELTY/COMEDY/GOSPEL/WORSHIP Genre


Who fought non-stop to get immunity for a team mate who couldn't do it for themselves.


For singing Strawberry Kisses on "Crikey Mate"