M

i

s

t

i

c

a

l

f

l

o

w

e

r

'

s

Profile Page
Misticalflower's real name is Debbie Leslie. Debbie is 63 years old, is located in North Carolina / USA and has been a SingSnap member since March 22, 2007. She has a total of 1,684 public recordings that have been viewed 183,877 times and 11 achievement points.
Information Written by

M

i

s

t

i

c

a

l

f

l

o

w

e

r

3
Most of friends listen, leave comments and stars.Then I have my other friends that say they care but they never listen to me sing or comment. I would much appreciate if I leave you a comment and star....PLEASE BE KIND enough to at least listen and comment twice a week on my songs.
OR I FEEL I may have to DELETE YOU OFF my FAVES! Im sorry but Im limited and I do a pretty good job of getting around to all my friends.
God Bless you!

Make your own widget at Blixy.com!


WELCOME!
Hi there to all that visit my page!
I'm am engaged to a wonderful man. Living in a small town called Denton N.C. I love to sing, enter contests on here and write poetry. I also dabble in short stories. I have 5 children. Three still lives at home.My daughter (22) Emery, My son Gaden (17) and my grand daughter Trinidy(11) That I raise. Her mother which was my second daughter was murdered in March of 2002.Trinidy was only 19 months at the time.She sings on here as well. Her id is Trin, check her out,she is good! I have 6 grand-kids(3 boys and 3 girls)!
Even thou I don't look my age(53)as of April 4, 2010, I'm getting older every year! Got my young genes from my mom! Hard to believe come April 4th I will be another year older, don't know about wiser, lol!, but you can't go backwards in years, wish I could at times! I love SS and all the many friends.
On March 5th, I got the results from a mole removal. It was stage 5 malignant melanoma. Having surgery on Monday the 9th to have a larger section cut away on my left ankle.They will take skin from my right thigh and graft it to my ankle. They will also do a biopsy on my lymph nodes in my left groin. PRAY that they are clean.If the cancer has spread to them, it isnt good. Thanks for the many prayers...God answers! Love you all!
UPDATE AS OF MARCH 9TH AFTR SURGERY: Surgery went great,in a lot of pain from wider re-excision and skin grafting. Will find out results of biopsy on Monday the 16th,2009(Or before if they come in early)Keep praying that the lymph node is clean,Thanks for the many prayers for me.
March 16th:UPDATE ON CANCER...The cancer is gone fro my leg,BUT The biopsy node today was 50% cancerous. So now They are sending me to Mose's Cone Hospital to go back into my groin and remove 10 to 15 more nodes.Will be done within the next 2 weeks. Possibility that my leg will swell and they dont want that to happen. They only give you a 5 year suvival rate with this cancer .IT IS VERY AGGRESSIVE! Can't be treated with radiation or chemo.They have another pill that makes you just as sick,that I will have to start taking after this surgery.They said if 10 of these nodes they remove are free,then outlook is ok.
I also found out today that my dad had a lump removed from his nose and it was malignant malenoma.KEEP US IN YOUR PRAYERS.
APRIL 8TH UPDATE: Seen new doctor.Had lab work done and I am sceduled for a PET and a CT scan on the 16th of April.If all goes well and the cancer hasnt spread anywhere,treatment will be started. It will be high dose of interferon...intravenously everyday for 1 month. Will keep all posted on outcome.
June 12
Seems I been away for a while due to the Interferon(kicked my butt).I go back in July on the first to get lab work done to see if cancer is gone.
Right now Im dealing with vertigo(inner ear) causing me dizzy spells.They put me on Meclizine,but its not working for me.Still having dizziness. I have gained my strength back gradually and I am doing some singing(mostly contest) for now.
UPDATE: June found a 2 ml mass growing on my uterus.Had it removed and biopsied(found out wasn't cancerous)Praise God,He does hear prayers! It turned out to be hyperplasia!God bless ya all!
Jan 2010: Uterus is fine but my CANCER has returned in my left groin.I go on the 21st of Jan for radioactive shot and more scans....Pray no more surgery...God heal me of this aggressive cancer I have.
Feb 26th 2010:Cancer came back and had to have surgery in my left groin to remove 24 lymph nodes.Which 20 some came back cancerous.The wound came open after staples were removed.
May 24 2010: Going to see radiation doctor to start treatments. I see a hearing doctor on May 26th cause Im having some hearing problems as well. Found out I'm half deaf in my left ear and right ear is bad too.May and June 2010:Got through half my radiation and couldnt take it anymore.
Sept 2010: Had mri did on lump in left knee...came back being a melanoma tumor.Doctor ordered a full body pet scan. Got that done and it showed lump in left breast and lump in left knee.
Oct 2010: Had a mammogram,ultrsound and a biopsy of my left breast. Waiting on results.
RESULTS: Lump in left breast and left knee is melanoma.After trip to Pigeon Forge on the 9th-15th.I have an appt with specialist at Baptist hospital in Winston NC.
October 2010:Specialist wanted to cut tumors out and give me an anti-cancer vaccine.I opted out of the surgery.Trying things my way:Alternative Methods for fighting cancer and lots of prayer! Whole life change with my eating habits! Did you know that SUGAR FEEDS CANCER! So NO sugar in my diet.Switched to whole wheat or 100% whole grain.Green tea and water and Using Rene Cassie's extract 3 times a day.Betcha didnt know that eating aparagus daily will shrink tumors.Giving my way til end of December to see if there is a change, if not will go back to doctors way of treatment.
NEW YEAR:2011
Melanoma still going strong in my body...2 tumors in my left thigh and 2 in my left breast now!
On MARCH 7,2011....I will be going into Baptist hospital in Winston NC for interluekin-2 treatment.They decided against surgery to remove tumors cause cancer is in my blood and more tumors would just grow somewhere else in my body.
This new treatment is given 3 times a day intravenously through a picc line in your vein.Much stronger dose than the interferon I had recieved in 2009.
I will be in ICU for a week where they can monitor my heart rate, blood pressure, lungs and kidneys.With this treatment I will gain up to 30 pounds water weight...have chills, vomiting, fever, mood swings and forgetfulness. Yes, there is some side effects...fluid in lungs and kidney failure along with drop in blood pressure.
After a weeks stay, I will come home to rest for several days...then get scans done and back into ICU again for another round of treatment....which will be rougher the second time around.
I will come home after my 2nd weeks stay, rest and get scans and go once more into ICU for a 3rd treatment.
Was told by doctors this treatment has worked for many melanoma patients and has cured them. I am a strong fighter and believer in God's work and I KNOW in my HEART that GOD will be there with me ...EVERY step of the way...HOLDING my HAND and HE will SEE me through this.
I will be taking my laptop and if I feel up to it will try to sing and keep my SS family informed on how I am doing!
Yall are a BIG part of my support system along with my own family.
Keep the PRAYERS coming and know that God and I love you! God Bless each one of you! Hugs, Debbie Feb 2011
April 4,2011: Today is my 54th birthday and Im loving it....so many great friends on SS wishing me a great day!
Tommorrow I will be back in ICU for the 2nd round of IL-2 treatment for my cancer. I will be in there about 9 days as before.Since I know side effects to IL-2...not looking forward to it.....But with God with me....Together we shall prevail and I will return home safely once again. Much love to all of you that send me messages of support....you dont know how much they mean to me....they really keep me going! Love you all and God bless each one of you....My SS sis is throwing me a party(della67)....jus look for Happy birthday song! Would love for you to come by for some cake.....Huggs N love! Debbie
June 2011:Well got thru the treatments and had scans....Not good news, new tumor on my adrenals.(adrenal are on my kidneys) so on my left adrenal,they found a new tumor the size of a tangerine.
I will be starting a new treatment called Yervoy, jus been on the market for a month.Had 1st dose, no side effects
BUT....
2nd dose came on July 21... side effect is severe eye pain in right eye. makes it hard to type and see.Having nausea and vomiting with this treatment as well.As much as one pukes and poops you'd think cancer come out of ya!
3rd dose is August 11,2011 and final does is Sept. 1,2011. Then we wait and see, then get scans did.....Im positive that God will give me a miracle for all to see!
Keep me and the many others here on SS and in the world that are burdened with a deathly disease or other handicapp. God says when two or more are gathered he will hear and answer our prayers.Well Yervoy didnt work for me! Getting radaition on eyes now. have 2 melanoma tumors behind right eye and one behind left eye.After the 14 days eye treatment, have a chance of getting on trail basis thru Chapel Hill for a pill trial.....Will see how that goes.....God loves ya.....Remember that, He is always a call away from ya.....Holler out he will hear ya! Love to you all....Keep singing,I love it!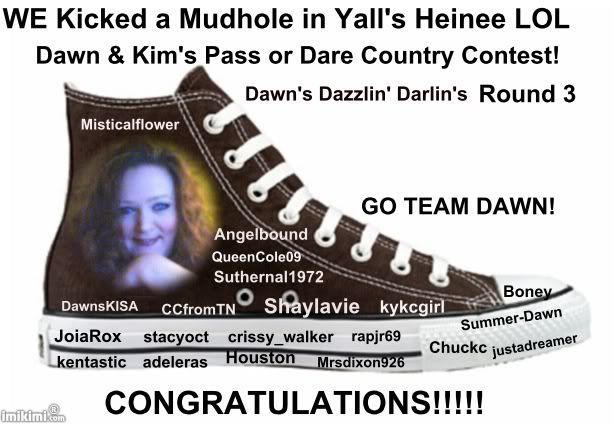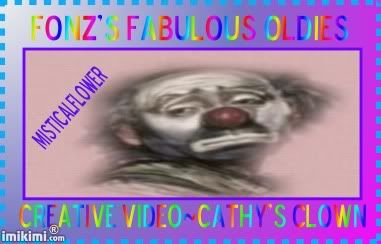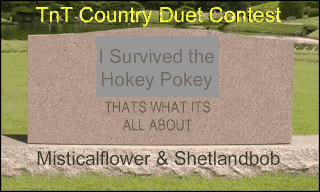 imikimi - Customize Your World!
: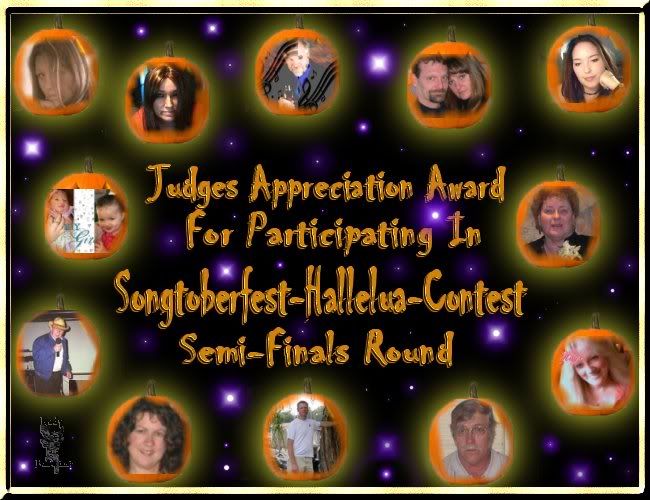 First place song"Gitarzan"