Profile
LEVEL 51
PRAYERS HAVE BEEN ANSWERED MY SON AND HIS FAMILY ARE DOING MUCH BETTER .. TYVM EVERYONE FOR THE PRAY
HI YA'LL MY NAME IS SHARON (AKA) LILMISSFLAME ..
MY DADDY GAVE ME THAT NICK NAME WHEN I WAS A LITTLE GIRL R.I.P.DADDY BECAUSE OF MY HOT TEMPER LOL...THE NAME HAS STUCK WITH ME ALL THESE YRS..I'M A BIKER AND I RIDE MY OWN BIKE BUT I'M ALSO A COWGIRL THAT RUN'S HER OWE HORSE FARM WITCH I ABSOLUTELY LOVE DOING ...FARM WORK IS A VERY HARD JOB BUT I CAN GET- ER- DONE RIGHT DOWN TO PUTTING UP THE FANCE'S TO DRIVING THE TRACTOR'S AFTER A LONG DAY OF WORK I LOVE RIDING MY TWO HORSE'S DANNY BOY & JACKSON ..I LOVE THEM SO MUCH ... I'M ALSO A KARAOKE HOST ON THE WEEKENDS I'VE HAD A KARAOKE BUSINESS FOR 19 YRS NOW ..I LOVE HEARING OTHER PEOPLE SING ...I HAVE MET SO MANY NICE PEOPLE HERE ON SINGSNAP AND FANTASTIC SINGER'S .I WOULD LIKE TO THANK EACH AND EVERYONE ONE OF YOU THAT COME BY TO HEAR ME SING AND LEAVE VERY NICE COMMENT'S TO ME GOD BLESS YA'LL ..WHEN I COME BY TO LISTEN FROM START TO THE FINISH I ALSO LEAVE A VERY NICE COMMENT TO YA'LL THAT'S WHAT IT'S ALL ABOUT ...SINGSNAP I'M HERE TO STAY ... THANK YA'LL FOR READING MY BOOK HERE LMBO AND GOD BLESS ...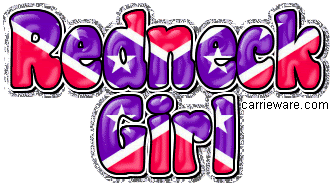 Get your own comment graphics @ OhMySpace.com!