K

r

u

d

'

s

Profile Page
Krud's real name is Troy B.. Troy is 45 years old, is located in USA and has been a SingSnap member since September 30, 2007. He has a total of 2,056 public recordings that have been viewed 142,950 times and 380 achievement points.
The following info is provided as my ineffectual way of saying "Thanks for stopping by, and sorry my profile isn't cool like other people's."
----------------------
Some people have questioned the name "Krud," and have argued that my singing doesn't sound like Krud, or whatever. The name Krud is from a character in a novel I started writing, in which one of the main points of the story was how someone with an unfortunate name may struggle to rise above it, and how one shouldn't let one's self be limited by it. The ironic results I get from using that name for myself tells me that I wasn't too far off. Anyway, if your name is Rusty, I won't assume you're out of practice. ';D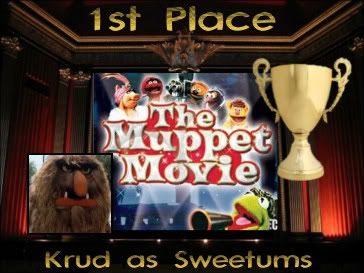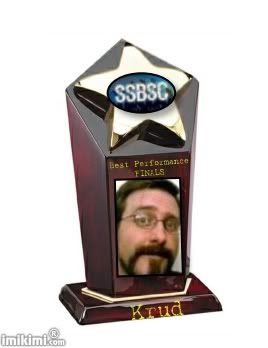 My Favorite Songs(So Far)
These are the songs that I've most enjoyed singing here at SingSnap (other than the parodies and duets):
(Doesn't mean these are necessarily my "best".)
A Hard Day's Night - The Beatles
Almost Like Bein' In Love - Brigadoon
Be Our Guest - Beauty & The Beast
Blowin' In The Wind - Peter, Paul & Mary
Can't Buy Me Love - The Beatles
C Is For Cookie - Cookie Monster
Close Every Door - Joseph And The Amazing Technicolor Dreamcoat
Dentist! - Steve Martin (Little Shop of Horrors)
Drivin' My Life Away - Eddie Rabbitt
Feed Me - Little Shop Of Horrors
Homeward Bound - Simon & Garfunkle
I Could Only Whisper Your Name - Harry Connick Jr.
I Dig Rock n' Roll Music - Peter Paul & Mary
If You're Wondering If I Want You To - Weezer
I'll Be There For You - The Rembrandts
I Love Trash - Oscar The Grouch
Lemon Tree - Peter, Paul & Mary
Mississippi Squirrel Revival - Ray Stevens
Reviewing The Situation - Oliver!
Secret Agent Man - Johnny Rivers
Si Volvieras A Mi - Josh Groban
Song For The Dumped - Ben Folds Five
Song Of The King - Joseph And The Etc., Etc.
Spider-Man Theme - Michael Buble'
Sunshine On My Shoulders (harmony) - John Denver
The Rainbow Connection - Kermit The Frog
Under The Bridge - Red Hot Chili Peppers
Viva Las Vegas - Elvis Presley
------------------
My Favorite Duets (So Far)
"Tennessee Birdwalk" (w/ Betani)
"Don't Fall In Love With A Dreamer" (w/ motherofprodigy)
"Hallelujah" (w/ MeganC)
"Last Night Of The World" (w/ CrestenPixie)
"A Little Fall Of Rain" (w/ Heidwell)
"Come What May" (w/ CrestenPixie)
"Anything You Can Do" (w/ CrestenPixie)
"I Don't Know Much" (w/ katenally)
"Behind Blue Eyes" (w/ tracy0077)
"(I've Had) The Time Of My Life" (w/ erinandhergirls)
"Last Night Of The World" (w/ A_Chicken)
"Summer Nights" (w/ birdheim)
"All I Ask Of You" (w/ sariana)
Nothing's Gonna Stop Us Now"(w/ birdheim)
"Something There" (Beauty & The Beast) (w/ heidwell)
"You Don't Bring Me Flowers" (w/ mcjessica)
"The Last Night Of The World" (w/ mcjessica)
"Don't Stop Believin'" (A cappella) (w/ birdheim)
"I Don't Know Much" (w/ birdheim)
---------------
Open Duets
"I Won't Take Less Than Your Love"
"Kiss The Girl"
(Actually, this is a backup track I made, based on the Disney version, to replace the one SingSnap has. All it needs is the main part.)