Profile
New Snap site needs major refinement.
Here's where you can find me these days:
Christopher McGilton on YouTube
Christopher McGilton on Facebook
Christopher McGilton on Twitter
Christopher McGilton on Google+
Christopher McGilton on Linkedin
Some of you may wonder why I have an unusual user name with so many numbers "k2501961". It's actually quite simple: k250 = The Kurzweil 250, which is generally recognized as the first digital keyboard that could successfully produce realistic sounds of a grand piano and other instruments by solely using integrated circuits without the need for external storage of these sounds and 1961 = the year I was born! I arrange, compose, sequence and perform music on this magnificent instrument!
Stevie Wonder playing the Kurzweil 250 for Ray Kurzweil in 1986.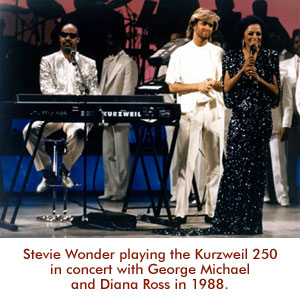 In the sixth grade I remember auditioning for the junior high school chorus but was not accepted because the music teacher stated "I wasn't good enough"! However in the 7th grade I was accepted because there weren't enough boys interested in the chorus!
A few years later with some friends from high school I started singing with the church folk group and then the parish choir. I eventually sang solo pieces of music and a limited amount of cantoring (which was still in its infancy stage at that time).
The second half of my sophomore year in high school was when things, musically speaking, really started coming together for me. I had a new choral music teacher. I was involved with two school choral groups, regional school choruses, school musicals, the Southern New England Telephone (SNET) Chorus and church musical activities. All this exposure brought music to a new level for me. This continued through my remaining high school years. In 1978 I auditioned for and was selected as a bass with a perfect score for the 1979 Connecticut All-State Chorus. I also studied piano and voice privately with one of the most skillful piano and voice teachers I've ever studied and worked with and of whom I have immense respect and admiration for, Dr. Louis Negri.
During my senior year of high school, I decided to pursue a career with the Air Force (this career choice was a surprise to many since many people expected me to audition at a major music school such as Julliard, Curtis, Eastman, Manhattanville or Hartt Schools of Music) and I enlisted under the Delayed Enlistment Program in October, 1979.
I entered the Air Force shortly after high school graduation in June, 1980. However, that did not prevent me from performing music! While in the Air Force I performed with several choral groups, performed in musicals and performed in multiple Air Force talent shows/talent training workshops, etc...
1989 was a phenomenal year with many highs and lows. I won two 2nd place "Wilco" awards at the Air Force Worldwide Talent Contest in the Vocalist Self-Accompanied and Instrumental Group categories! I was selected to perform with the Air Force's "Tops In Blue" entertainment group, but declined this opportunity to accept a position as an accompanist with the Air University Band (this was one of THE hardest decisions I have ever made in my life).
However, the Air Force decided not to transfer me to the band (I learned shortly thereafter the band was consolidated due to reductions in military force). I was totally and completely devastated. However, the story does not end there as I will now explain...
Towards the end of 1989 I was in a unique situation at the church off-base where I was a choir member, cantor and occasional accompanist. Four weeks before Christmas the church suddenly found themselves without a music director and I was asked to assume this position temporarily until a replacement director could be found. However, because things worked out so well for Christmas the pastor decided to appoint me as the permanent Music Director! Keep in mind I was also serving in the Air Force at the same time.
From 1991 - 1992 I was deployed to Operation Desert Storm and in 1992 was honorably discharged from the Air Force. Since 1989 I've been a Director of Music at various churches in Oklahoma, North Carolina, Pennsylvania and Ohio. I am currently the Director of Music at Our Lady of Hope Parish in Bedford, Ohio
On May 26, 2017, I performed as a baritone soloist with the Hudson, Ohio Festival Choir at Carnegie Hall, New York City! Here's a review from the concert:
REVIEW OF -
DISTINGUISHED CONCERTS INTERNATIONAL NEW YORK (DCINY) PRESENTS CELEBRATION AND REFLECTION - THE HUDSON FESTIVAL CHORUS AND ORCHESTRA (OHIO, USA), THOMAS SCOTT, DIRECTOR; SUSAN WOZNIAK, SOPRANO; DANIEL DOTY AND CHRISTOPHER MCGILTON, BARITONES - STERN AUDITORIUM AT CARNEGIE HALL. NEW YORK, NY - MAY 26, 2017