GretchenPittman's

Profile Page
GretchenPittman's real name is Gretchen Pettyjohn. Gretchen is 44 years old, is located in Indiana / USA and has been a SingSnap member since November 30, 2008. She has a total of 56 public recordings that have been viewed 8,817 times and 21 achievement points.
Information Written by

GretchenPittman

5
~~Please Sign my Guest Book...I would appreciate it!! :o)
Hello everyone...I am Gretchen Pittman and I am a Christian/Southern Gospel/country Singer. I come from a family who loves music. My mother always had music playin at home! My grandmother was always singing a song in my ear of some kind whether it be a Hank Sr song or Patsy or just a good ol' Gospel Hymn. I have a younger brother who also sings, but wont. lol My father is also a singer and plays (self taught "by ear" )Piano. My father started putting me in front of the congregation at church to sing starting at 3yrs old lol from then on,thats what i like to do or should I say Love to do! I like all kinds of music including classical

Love to do competitions when i can,they are lots of fun and you can meet lots of cool people with lots of talent!
I am involved with the youth in church (youth leader, music leader) Anytime i get the chance to help with benefits or church functions they dont have to ask twice...I am all about helping others and deeply believe that what you do for others will come back to you someday

Don't be surprised if you see or hear a child in the song lol between me and my hubby we have 10 children yes 10, so its kinda hard to find a moment alone!(REALLY!) My oldest son who is now 15 was diagnosed with cancer at the age of 2 yr. He had 2/3rds of his liver taken out,Chemo and all the yucky stuff that comes along with it. He is now cancer free and I thank God and Only God for his healing!
My music is my ministry, and i take that part of it very seriously. I do like to have fun with music too though lol Like every once in awhile bustin out an old G N R tune ....makes me feel like a teen again, shoot everyone needs to feel that way sometimes, right? lol .......thanks for stopping by........ Check out my myspace page.....www.myspace.com/gretchenpittman Thank you and God Bless
~~hugs~~
Gretchen Pittman~~~~~~~This Video at the bottom is at Boot City Opry, it was a Christmas Competition~~~
This is a song that i can't hardly sing without tears (as you will be able to hear!) I won first place in this competition.....i was blessed that Christmas! That was a tough Christmas, My husband and I were out of work and had no money for Christmas.....i won $500, and was able to buy the kids their presents

God ALWAYS provides!
~~~~~~~~~~~~~~~~~

imikimi - Customize Your World!
"http://media.glitterfly.com/users/20090514/517z00io8u.gif


imikimi - Customize Your World!


imikimi - Customize Your World!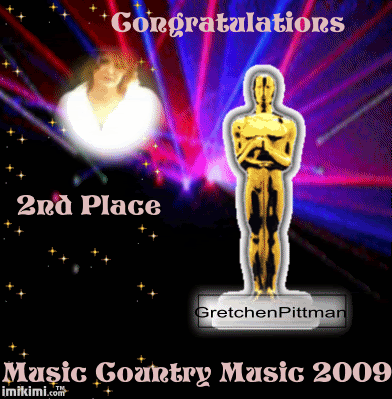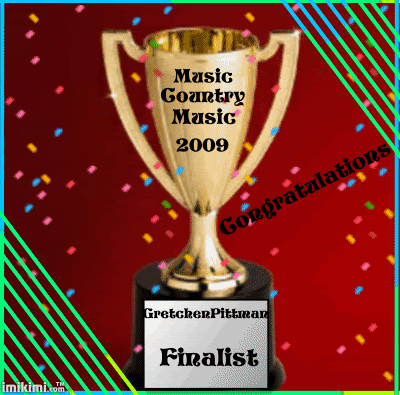 imikimi - Customize Your World!


imikimi - Customize Your World!

imikimi - Customize Your World!


imikimi - Customize Your World!


imikimi - Customize Your World!


imikimi - Customize Your World!