Profile
LEVEL 35
I LOVE SINGING!!! One year ago an acquaintance (now a friend) asked me to join him and sing tracks at some of the seniors residences and I find it so fulfilling. It also helped break me out of my shell. SingSnap is a wonderful forum for practicing and learning new songs; listening to others who love to sing and hearing variations to songs as people make it their own!!! How much fun is this!!!!

Special thanks and gratitude to QTBUNZ (Deborah) for recommending this site and MgSacto (Mike) for sponsoring me with a Gold Membership to get me started. Hooked!!!
Decided to reverse the order and showcase the most recent banners first....

Stage 1 - Beautiful Stage 2 - Blowin' In The Wind


Stage 3 - I Can't Make You Love Me Stage 4 - Oh Atlanta


Stage 7 - Sweet Dreams Stage 10 - The Lonely Goatherd


Stage 13 - And I Love Her (Him) Stage 12 - I Want a Hippotomus

Woohoo placed in my first competition...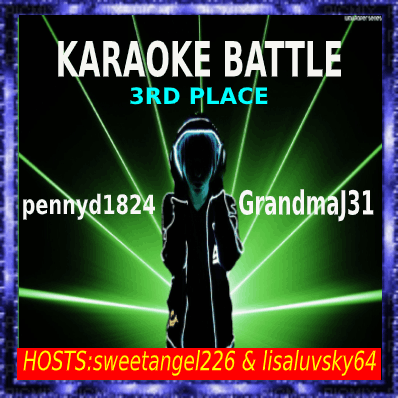 Also won a trivia banner during this contest...awesome