Brokenyoyo's

Profile Page
Information Written by

Brokenyoyo

5
I love to sing, since i was a kid i've been drawn to music. It's my tool for relieving stress. Although i can't believe i'm singing on here where people can actually hear it because i'm very shy when i sing in front of anyone. I am Mom to 4 wonderful children. I have 2 boys and 2 girls.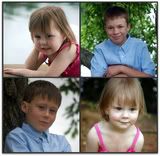 My 8 year old daughter is my miracle child as she was born with a severe congenital heart defect called hypoplastic left heart syndrome. Basically the left ventricle didn't form and she had to have open heart surgery at 2 days old to survive. She went through another at 2 months old. She was supposed to have another one in summer of 2009 but her heart started working too hard so in August of 2008 she was listed on the heart transplant list. In October 5, 2008 she received her gift of life. She is doing wonderful.
Married to my husband for 17 years. He is a drummer and lead vocalist in our Band Barefoot Chicken, along with myself for backups, my Dad Barry on lead guitar and Joe on Bass.