Profile
LEVEL 83
JUST A POEM OF LOVE FOR ALL VALENTINES ............................

LOVE
LOVE IS MORE TIME TO SHARE
ITS REALLY WHEN YOU CARE!
IT'S TWO PEOPLE JOINED
I WAS IN LOVE WITH YOU
BEFORE YOU COULD DROP A COIN
IT'S A SENSE OF TRUST
BUT NOT ENOUGH LUST
ITS A COMMITMENT TO BE THERE
BUT WOULD YOU ALWAYS BE THERE
TO SHARE AND CARE
a youtube song one i love and enjoy .
@ ANGEL
Love to sing karaoke ,or with singalongs favourites of singers on sites-youtube or to a home to dvd
Always had a dream that maybe some day someone will hear me sing and say hey we want her to sing a harmony and make all my dreams will come true.....until now I sing for fun!
Keep On Dreaming!.I have to add this has become a very special place in my life
and thank you to trevor,novella and all the staff that make up singsnap.
They have brought a lot of happiness to us all.god bless!!!!!!!!!!!!!!!
I invite you to leave a link(s) to your songs in a comment or PM. This is a convenience I find that helps me go directly to your song(s) you would like for me to hear. I have had a lot to deal with as far as my health,and social too thanking you all for dropping it by my inbox .cheers Diane (AngelMinx100) SS.
Please come and join me in open duets and listen to other songs posted thanking you all friends Cheers Diane AKA Singsnapper!(AngelMinx100)
Love this site , and will continue to enjoy all the members here too that pass my way ......I would recommend this site to all Karaokes like myself to sing a solo or be it a duet or harmony ..Thankyou Singsnappers for a great site ,and for all the new friends I have met on way through SS thankyou all ,and continue to enjoy my sings (kroaks)along the way too LOL
just have fun! I am and will continue to join all Singsnappers ,be it they are good or not so good ,where I fall in that category I guess would be the latter .....LOL
Smiles
Country Music, POP, SOME GOSPEL,among a few of my all time favourite genres
SOME BLUES,SOME ROCK,
thankyou connie !
I just love singing,can`t do it very well though, but what the heck
SINGLE, with 2 grown-up children, and 2 grandchildren! Living in Australia Melbourne,Victoria..........................
A BIT OF INFORMATION ABOUT ME! Diane IS my real name AKA Angelminx100 SS
I have COPD /Asthma/Sinus/Mild sleep apnea. carpal tunnel right hand so typing gets too much at times for me to so i generally copy and paste on all comments or listens sometimes I just hit LIB as i have noted listened and heard songs! for contests or non contests.,.and 2 blocked heart arteries lower under Med Management and see a surgeon hopefully soon on wait list 6-9 months for appointment to see what to do about blocked arteries in my legs ,despite this I have faith and stay happy ,smile laugh best medicine,.pain daily . I suffer chronic bone back pain 24/7 3 disc problems L1 L4 S5 for past 38 years nothing they can do for back no surgery will fix it its totalled . Pain Meds not help so I prolong and suffer silent pain daily just a brief update on my health god bless all and me and prayers to all those silent sufferers too. also have undergone surgeries for Anal outer tumor was carcinoma and has been removed but I am also on list for surgery for Dec/Jan for a smaller one to be removed so that will not turn to carcinoma ,hopefully I was blessed and cancer free for now!
Hope this hasn't put you off just information on the person I am ...hope to make new friends and hopefully one day find a partner....not getting any younger LOL...
always remain ,happy,laugh, I believe is good medicine and I try live by it at all times .God Bless this is why I enjoy trying to sing as a release for pain from time to time...and remain happy.

AND A HUGE THANKYOU TO MY SPONSOR:THANK YOU SO MUCH FOR CONSIDERING ME AS A SPONSOR!!!!!!!!!!MONTH OF NOVEMBER 2015
Thankyou, Thankyou! To all my other sponsors over the time who have sponsored me too appreciated and honoured God Bless ..this is for you all to all my lovely sponsors.

http://www.singsnap.com/karaoke/watchandlisten/play/b68a6edc1
Thank u all for your nice comments ....keep going..KEEP ROCKING
Thank You for the BEAUTIFUL banner to place on our pages!
May it remind me & all to keep the people of Paris & France in our
prayers in the coming days. Vive la France! Vive la Liberty!
God Bless You Both .... Billy & Sherry!
Let's Spread The Love - One Song At A Time
Lets share some love?


awesome 4th place and thankyou sweetsuejustyou for the banner for page ,and thankyou for contest well done to all others too in the contest we all did very well congrats guys/gals.

-THANKYOU SHIRL AND DENISE for banner love it Music trivia
Another fresh new year is here... Another year to live! To banish worry, doubt, and fear, to love and laugh and give and sing!!
Another year has passed, another year has come. I wish for you,
That with every year you touch all your dreams. May God pour love and care on you,
Happy New Year!.
Don't worry when others are unable to understand you,
Worry only when you are not able to understand yourself,
May you have a Happy New Year.
I wish this year has lesser disasters, lesser hate,
Lesser accidents and loads of love, Happy New Year 2016.
As the New Year approaches us with hopes new, here is wishing you,
And your family a wonderful year ahead,
Happy New Year. Cheers Angel

thankyou for 3rd place banner and wonderful contest teresa and all who entered ..and congrats to all other winners too ............happy new year .....
Thank you Rob so very much for the banners I love them and my placement !! I love that song and had fun trying it for the first time !! Loved everyone's songs and dedications I heard they all were so beautiful !! What an awesome idea for a contest too! Congrats to everyone !
1ST PLACE WINNER
thankyou for the participation award !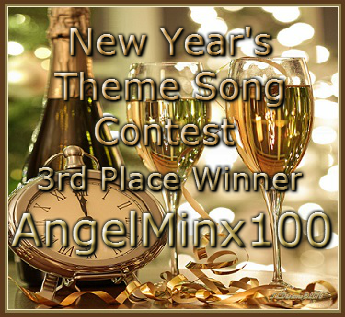 thankyou Teresa for hosting this contest and beautiful banner i received for 3rd place thankyou all and to all other winners of contest all well done and happy new year cheers angel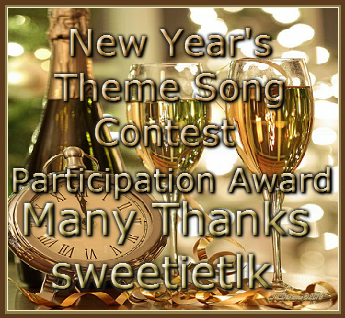 THANKYOU PROUDMARY FOR THE BIRTHDAY BANNER TRIBUTE FOR YOUR BROTHER RICHARD AND ELVIS HONOURED TO RECEIVE IT CONGRATS TO ALL OTHER WINNERS IN CONTEST TOO ..


THANKYOU FOR THE PARTICIPATION AWARD DISCO THEME 2016
thankyou for the lovely participation banner the voice love it and good luck to all in contest too
THANKYOU FOR THE LOVELY BANNER 4TH PLACE ....TERESA AN HONOUR TO RECEIVE IT
thankyou for participation banner Shandebel
thankyou danny for the lovely banner
THANKYOU CATS-EYES FOR A WONDERFUL CONTEST AND PARTICIPARTION BANNER GOODLUCK TO ALL WINNERS WELL DONE AND CATS-EYES HARD WORK AS HOST ON HOSTING CONTEST .WELL DONE ALL
thankyou brenda for lovely banner too .
thankyou sue for lovely contest and placing in contest well done to all other winners too .......god bless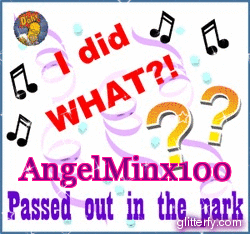 hahaha love the banner ....for the uncontest .thanks barbx