A

c

e

o

f

K

a

r

a

o

k

e

'

s

Profile Page
Information Written by

A

c

e

o

f

K

a

r

a

o

k

e

34
Hey kids! Who wants to have some karaoke fun?? lol, Well, it has been along time since I was here but I find myself utilizing this avenue to lift my spirits, to heal my soul and to just make myself smile!! in the midst of the unknown. An update on myself. I recently had a medical emergency while driving which resulted in a walking miracle. Me. It was discovered that I had a 6.5 CM GLM brain tumor in the right side temporal lobe of my brian. BRAIN CANCER!! Are you kidding me?? nope. and so it goes. two weeks in the hospital, surgery, and now at home recovering after successful removal of 80% of the tumor. Yes, it is grade 4 Glioblastoma, pretty much, in most people, a death sentence. However, GOD BE PRAISED!! I have lost nothing except about a 6 oz can of brain matter. I have counted my blessings over and over and consider myself to be a walking miracle!! I am going to go through the process of chemo and radiation treatments beginning in a couple of weeks and through the summer. Jesus is my healer and I am believing HIM for 20 more years on this earth to be with my lovely bride and family! They need me and I want to spend the rest of my life Praising Jesus for what He has done in me!! My ministry will be LOVE WINS!! Because He has!! and I will use my every breath, as long as I have them, to sing praises to my Lord and to minister to those along the way. If I can share Jesus with someone and make a difference in their life, then it is worth it to me. He is what matters, I am nothing, I take no credit, it is ALL ABOUT HIM!! and is FOREVER!! So, I made the choice to renew my membership again on SingSnap, simply because it lifts my spirits, I enjoy it! and Jesus has blessed me with a great voice that I can simply use to touch someone's heart and possibly lead them to HIM! I have no idea who is in charge, if Trevor is still around, and if all of my old fellow peeps are still on here. I know some have gone ahead but I would be honored and glad to hear from those still singing. This is gonna be good buys, what an honor and blessing to be welcomed back!! Let's get this show cranking!! I would like to invite all of you to check out my FB page and also my YOUTUBE pages! AceofKaraoke is where I will be or by my name, Dana Gilbert. I have nothing but time on my hands until late August at least, and you will find me here, singing, praising, and sharing my story. As I tell my FB Peeps, I love all of you and only want to thank you, for your prayers continuing on my behalf, for your support and encouragement as I go through this and for the love you can share through music! A very special thanks to Trevor and ALL of the SingSnap staff and volunteers. This website was the avenue of support that got me through a rough time in my life when my first marriage ended, and I know it will be a source of support this time as well. I have no doubt that this time is different, I am here to support those struggling through a rough spot now to this is my chance, my choice to leave a legacy of musical ability and hope to those less fortunate. Jesus decides my future, I could have 20 minutes left, but I have asked for another 20 years! and I cannot wait to be declared CANCER FREE!! Please check my fb page, send me a friend request, I will honor all who ask. Jesus is so wonderful, He died for each of us, and all He wants is for us to spend eternity with HIm! Who wouldn't want that? Seems kind of a no brainer. Open your heart to Him if you do not know Him. I cannot stop praising Him for what He has done in my life!!! LOVE WINS
With much love to all, Sincerely, Dana Gilbert, the Ace of Karaoke!! Almost forgot, Xena435 is still my loving bride and what a wonderful woman she has been through this!! I am so very thankful for her and for our family!! So very many precious memories here, I hope all my previous recordings will be restored, cause there are some beauties on here!! I will be adding more as I can, and I cannot wait to get started. BE blessed everyone!! and it so great to be back!!
Hi, everyone. I just love singing karaoke, and people tell me I sing very well. Glad to have gained many friends and fans by doing karaoke. I sincerely appreciate everyone who takes time to listen to my recordings and leaves comments of support. Ohio born and bred, my life at age 57 has taken another turn.
Yet another turn in my life, the love of my life has returned to me! Relocation is definitely in my future, goodbye Wisconsin!, keep your cold temps and your raw winds..brrrrr.
I'm thinking Nashville? Where I can drive with my window down, ride my mistress all over the town and maybe even be discovered downtown~!~! LOL..
My love will join me there, and together we will be, until eternity, thankfully. I am beside myself happy with my future plans.. Prayers and dreams do come true!!
Thank you's to all who have kept xena435 and myself in prayer, our wedding soon approaches and I am already on cloud nine. I am grateful for many things, Jesus, Diane and Sing Snap,,,and even though we didn't meet here, it helped that I sang over a dozen songs to her on our first date and proposed with one I had written! Thank you, everyone, and keep singing. Let your voice be counted in glory!!
AceofKaraoke
Hey, kids, I'm baaaack. Just for a brief time though. Had to record a funeral song and this was the best way to do just that. Thanks SingSnap! I promise to enjoy my time while I am here and have fun recording some old favorites. Love you guys!!! Let em hear ya!!
Ace......
Below are some of the banners of recognition I have received here on SingSnap, the best online karaoke website ever!!!!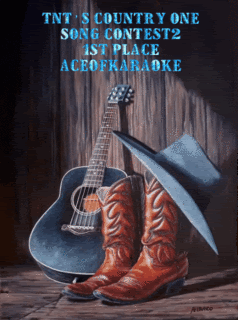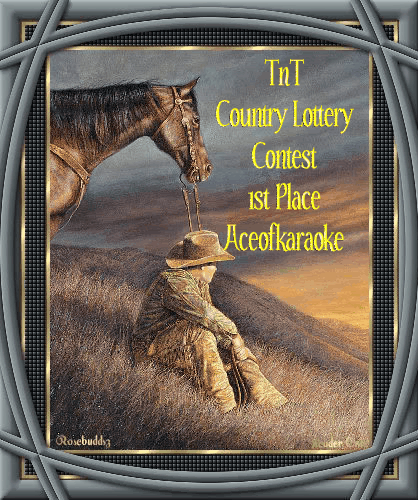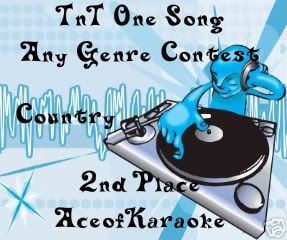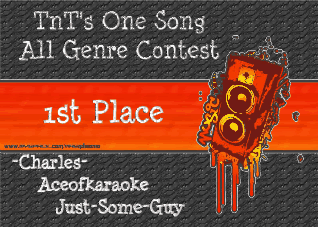 imikimi - sharing creativity

imikimi - sharing creativity