Profile
LEVEL 47
Haven't been here in a long time. mahalo nui loa 2 the anonymous donor for the free year gift.

UPDATE March, 2021 Mahalo nui 2 an anonymous donor, who gifted me with a full year of singsnap! I feel so blessed.
I have been starting to get set up 2 sing on the PC again. The year has been rough. I am doing my best 2b healthy and happy. Singing is part of that.
I miss singing with others, but I am immunocompromised. I rarely get to leave the yard, but I am enjoying it more.

Still no income. I never tried 2 get gig workers unemployment money from the government. I didn't feel worthy.
Update. September 2020. Been 6 months since I turned on my amp. I have been singing during the pandemic, but only at home, 4 myself. No performances, but I did sing online (zoom meeting) a few days ago and finally used my amp again. My husband helped me set it up, but I don't know how it sounded online. But the experience made me feel like performing online again. A little. It made me miss you, SingSnap.
Prior to Covid-19, I was just starting to get gigs, but for tips only. I've never been paid to sing. Yet. My husband was helping me with the gear, and we were developing a bit of banter that was quite entertaining. I was also singing in a women's choir, but my health, and allergies to fragrance were making it difficult to continue. I focused on my solo performances, using backing tracks that I owned, and even made a couple of backtracks of my own.

Here's a promo reel, of highlights from my 1st solo gig, with backtracks. We never did make a promo reel for the market gigs...
Currently, I am living downstairs, 2b closer to the yarden, staying grounded and as healthy as I can be. I don't have access to (or energy for) a computer right now, or I would make more backtracks.
So...I'm just checking out the new app and seeing what mic I have that can work, so I can sing now and then. Maybe I will sing outside 4 u someday soon, singsnap. I miss my friends here. I think most have gone to Smule, though.
I still have no income, beyond Social Security. I'm trying to learn how to earn bitcoin from the faucet below It's legit. I've earned about $100 USD of Satoshi so far, during the pandemic, and have successfully withdrawn to my wallet.

Update. June 2019. Lots of music projects started this year, that didn't pan out into much. Very depressing, and I have had to take breaks, for family crises/health issues, which makes it harder to maintain momentum and to be taken seriously. Still no pay for singing. No job, with my physical disability. But I am learning. Somehow I got myself in a local Blues contest, and am a finalist. Yikes! I know people think that the Blues is easy, but I am finding it quite challenging, vocally. I want to preserve my tone for the nice ballads, but it's hard when I'm doing all this gravelly, belty, painful stuff. But I will get exposure, I guess. I just dislike competing. I'd rather cheer for everyone than compete. But I will be ok. I am thankful to SingSnap for the practice. I'll figure it out, eventually.
Updated June update: I won the "Can You Sing The Blues" contest in my town, held by local musical celebrity Larry Dupio. I did Big Mama Thornton's "Hound Dog," in Dog-flat. It was a little squeaky on top in a couple spots at the end, but I had fun. I won a one-night, oceanfront room for 2 at a hotel, 2 movie tickets, and $100 restaurant credit at a place that doesn't serve food I can eat, lol! The restaurant manager told me to wait outside, in the rain, during the contest, because I wasn't buying food. Eventually husband ordered food so we could keep a table. But I had fun while I sang, and winning boosted my confidence. Plus, all the preparation really gave me a newer, healthier respect for The Blues, and I sang it all over town, jamming with anyone who would, and any level of player. I still have a lot to learn, and I am grateful for those who are willing to take time to share their wisdom.

I hope to hit more open mics soon, and have been using Smule more than SingSnap, because it is easier to practice with the phone, now that I don't have a piano anymore, and the computer uses so much electricity.
Update. August 2018. More of the same. I don't come here often, but when I do, it's a bunch of one-takes, because I'm trying out tunes, or seeing if I've improved on old favorites. If you are looking at my "public playlists" for a specific genre...they are all out of date, and I probably don't sound like that anymore. I don't feel like organizing my recent tunes by genre. Just scroll thru recent pages of recordings, and see what catches your eye to listen to.

Update. November, 2017. Working on re-developing my high voice, so that it is less classical-sounding, but sweet. Still working on my improvisational/scat skills/jazz vocal, and applying those skills to other genres. Freeing my mind from the rigidity of my classical training, yet retaining the knowledge and foundation of that training...and discovering new techniques. New tonal qualities. New colors/timbres in my voice.
In real life, I have been trying to sing at different Jazz Jams, with as many people as will let me sing. I treat every performance like an audition, and hope to get paid someday. I like a live audience, and live musicians...and singing songs differently every time. I have been approached/asked to sing outside of those Jazz Jams a couple of times the past few weeks, and it feels good to be asked. Been practicing a LOT at home, with the iReal Pro app. Changing keys, tempos, grooves. I love it.
I still like to use SingSnap as a way to work on memorization of lyrics. To avoid getting into a rut and singing a song the same way...and being boring/bored...I have been trying various backtracks/keys. Once in a while I will spend time on multiple takes, but mostly I am still doing one-takes and just training myself to stay in the moment and move on, and make it work, when I make an error. Music is art. I'm an artist, not a machine.
Update. August, 2017. I took an Abstract Art class for a few weeks this summer, and it has changed the way I approach songs. Or rather, the way I sing has been evolving and becoming something different, as I learn to improvise and create something unique and expressive. Also, I have been trying to just go with the flow and sing/dance as needed...even if it is nearly 3 a.m....like it is right now.
Update. April, 2017.

I have been very sick for over a month. Some kind of plague and the coughing...the phlegm never ceases. Every time I start 2 feel better...it comes back worse.
As a result, I have been unable to sing, and I am losing my mind. It is starting to come back (my voice...not necessarily my mind, LOL!) but I still am having trouble with breath support and intonation. And power. Control. So many vocal issues to overcome right now. When I first tried 2 sing earlier tonight...I swear...dust came out of my mouth. The first few notes were ...nothing. When I did make a sound...I sounded like a dying bird.
I will keep trying. I need to sing. I am also in a lot of pain with the fibromyalgia. It has been pretty bad for a while, and I need to sing. For the feel-good endorphins. Maybe this is my new voice, for this era of my life. Maybe this is my old lady voice, and I have to accept it. I dunno. I know that I need to find a way to sing, even if it is off-key and breathy and wobbly. If my voice is changing...I will have to find a way to be ok with it.
Update. Winter 2016. Not much has changed. I renewed my membership, but am not sure why. I have been listening 2 my old recordings with disgust and want to hide them all...so I am slowly moving them to private view or to SS members only (out of public view.) But the more I listen, the more disgusted I am...and I have to stop listening. So it is taking a long time to get through. I appreciate the comments, but my ears don't lie. So many of my recordings are just awful to my ears. I don't know why I posted them.
Update. Fall 2016.. Very little has changed since last update. My cat died. She no longer jumps in my lap when I sing Jazz, or worries about me when I scream Rock. I am doing a wee bit of theatre. Just a short piece, a two-person scene in a One Act Festival. I miss my cat.
Update. late Summer 2016 Haven't been singing much, here or in real life. It's much harder than it used to be to get dressed up and go out, or get dressed up and do singsnap wholeheartedly, knowing that I am getting older and my voice is changing. I have no energy to practice. Fibromyalgia and the lack of sleep is sucking the life out of me. I'm very tired and sore this summer. I had been working on making charts in my keys...a "book" for myself, but it turned out to be much harder than I first thought. The good news: after 3 years of searching, we found a car that fits me and is drive-able on days when my body cooperates. Which is not very often. So I make plans to go out and be active, but they rarely pan out, and I go back to my funky depression soon after. My life is a slow motion train wreck.

Singsnap remains my music therapy space, but it has been less of a joy lately. The room I usually sing in is very dusty and there are little fire ants in there...waiting to sting me while I sing. I think I will run away from home soon.
Update. Fall 2015. Just focusing on doing one-takes as warm-ups, to find my key and keep my ears functional, as well as find new songs to learn. When I re-record too many times, it really tires me out. Yes, I make more mistakes this way. I also am becoming more accepting of them as art. I like going back a year or 2 later to a song and hearing how it has evolved. Also, I am singing more and more every month (sometimes every week!) with real live people in person. Making new friends. A friend showed me an app that he uses to practice, and for jamming, called iReal Pro. My husband bought me an android tablet just so I could use it. I totally dig it, for purposes of finding key, practicing jazz improv, etc. Also, when I get the hang of it, I can use it to edit charts. But for now, it's nice to have charts accessible, and an app that plays the chord progressions. So, I may be on SingSnap less often (sorry, I haven't been keeping up with comments.) Also, my mic seems to be dying. I ordered myself a new mic for my birthday, but it's mostly for singing live...not so much the PC. We will see how that goes.

That thing that I was maybe gonna do with my guitar friend didn't pan out, but it's cool. I'm making new connections and growing every week.

Update, Summer 2015. Still joining contests now and then to force myself to practice and improve my skills. But just mostly singing for fun, doing first-takes without practice, trying to figure out what key to sing in (because my musician friends expect me to know these things.) I rarely give a rat's ass about how crappy I sound on one or two bad notes. Yes, I know it's hard to believe, coming from me, but I really don't have the time nor energy to stress out about a song, and life is too damn short. Also, there are like...20,000 songs on the site, and I really want to sing the ones I kinda sorta know or at least heard before. If I try and make each recording perfect, I will die before I am done. Or go mad. (beat...) What do you mean, I'm already there? ;-D
Update, Spring 2015. Thankful to SingSnap for encouraging me to return to the stage after ~11 years? Wow. Too long, I was away. It's physically challenging to go to rehearsals, and I have a very small role (alongside my hubby) in an original musical that our friend and mentor wrote. She is very patient with us and our limitations. Minimal singing for us, and even less dancing. Here is my video update. I hope to get back on SS soon, but it is hard to do both...and get that infernal laundry finished! It never ends!
Update, Oct. 2014. I have been releasing a lot of unfinished, messy products, for review by a friend that I just met via an old friend. My new friend plays the guitar. There is a chance that we will get to work together, and I am using the site as a practice medium, to try on songs for size before we waste too much time in rehearsal. It is very challenging for me to be vulnerable and release SO MANY works in progress. But it is harder to spend hours on a song that will be tossed in the trash eventually. I'd rather try something on to see if it fits before I take it home and let it sit in the closet. Until now, I have had LOT of recordings in the closet. I have recently released many of them into the wild. Let's see what happens to them.

I will be putting most of my contest/challenge banners, etc. in my 'gallery' and directly on my recordings from now on...unless i record something really super special that i am crazy proud of. I think ALL the banners are beautiful, but I have chosen to write info about myself on my profile-so at you can get to know me-instead of decorate it with pretty pictures.

SingSnap is my only way of doing theatre these days. Maybe someday I'll get strong enough to do community theatre again, but for now, it's an honor to sing in my 'karaoke theatre.' Ultimately, my goal is to sing live in my community again. Like maybe with friends in a band once in a while? I dunno...a silly dream for an old lady like me, but it would be one come true.
click Banner below for Playlist

Click Playlist banner below for my 3 entries. I'm especially proud of the second one. Busted my ass but had fun and am proud of my art!
Super-proud! I accomplished my goal to have fun...didn't win the grand gold, but it's cool!
I had all fun, and zero stress for the first time in a contest.


Click banner below for playlist.
I am SO PROUD of THIS!!! Click the banner below for the playlist.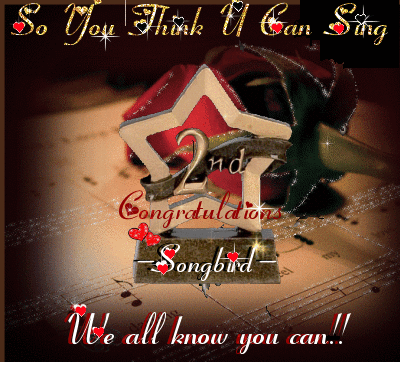 January, 2014
I don't do resolutions, but I have decided to make mistakes this year. I plan on making many mistakes, and accepting them. Mistakes are made when life is lived. I can't afford to let fear of mistakes prevent me from living.
I have been stuck too long, unable to move and grow, and live. The recent Bell's Palsy episode (mostly cleared up now) and its facial paralysis reminded me How much i enjoy movement. I still have all the other physical limitations, and there are still unsupportive people in my life, but there are many more supportive friends and family, and many more working body parts that want to move.
It's time to release myself, get up, knowing that I will most likely fall down. When we get up and try to walk, and fall down because we absent-mindedly tied our own shoelaces together...it makes for a good laugh. And the bumps and bruises remind us to pay attention next time we tie those laces. Or use Velcro.
I might even learn from my mistakes...or not. Perhaps others will. I don't mind. I will do my absolute best to do what I can and get unstuck. And may learn to love Velcro.
winter 2013
***I have been offline lately, due to physical limitations. I want to sing, but am still learning how to eat/drink/speak/brush teeth with Bell's Palsy. I am confident this is temporary, and hope to return and sing soon.

Sorry, I can't respond to comments/messages as often as I would like. Enjoy your holidays! Peace, Love, and Acupuncture***
Things you should know About Me:
I am finding my voice. Chronic Fatigue, Myofascial Pain and Fibromyalgia get me down, but I have music to lift me up! I am grateful for the opportunity to sing, and for the love and support of my husband, "shiraga."
I am also reclaiming My True Self. I am challenging MySelf to sing without boundaries, in full voice, with complete Abandon! I hope this site will help me do so. I will find Me again.
My Music, My Voice, My True Self was taken from me by a spiritually abusive christian church group, before I really had a chance to develop it. Before I could fully express who I Am, and My Unique Role in this Universe.
Singing is therapeutic, but it is also very painful for me...both physically and emotionally. Tread Softly. You Tread on My Dreams.
Mahalo Nui Loa!
p.s.
many of my recordings are imperfect "first takes," because i am usually too ill to practice for very long. but i figure something is better than nothing. Videos are very difficult, as my body and vocals tire out so quickly! But I do enjoy acting while I sing...even if it means I blow a few notes!
if i don't return the favor of your comments, it is because typing is difficult for me. thanks for listening anyway.
The fans voted, and
WE WON!



THANK YOU FOR YOUR SUPPORT!

The links below are my other round entries.
I Won a gold membership for a year! Thank you SingSnap!
9/30/13
9/23/13
9/16/13
9/9/13
My SS experience Highlights:
10/4/13
9/3/13 MY FIRST VIDEO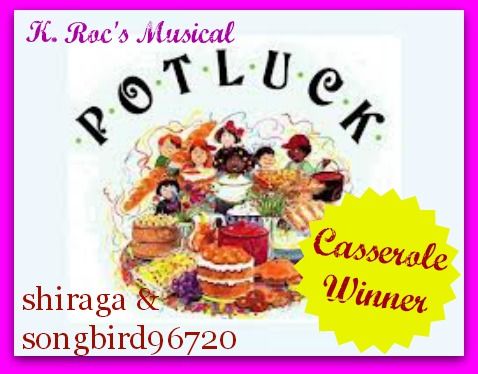 8/28/13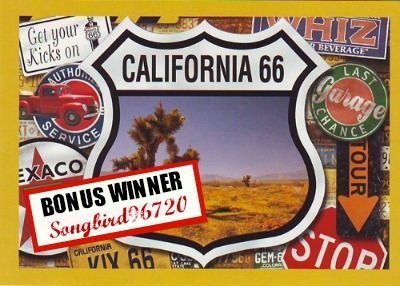 8/5/13
8/2/13

7/29/13

Bonus Banner! WooHoo!
http://www.singsnap.com/karaoke/r/c8a0d3d90
7/23/13 YEE HAAHHH! Gold for a month! Thanks so much ltyger26! Many Blessings to You and Yours.

Blue member activities:
7/23/13 !!!???Still in shock, but apparently my trolley caravan picked me to win a banner for round 2!
My first contest. July, 2013:

My first challenge. July, 2013: